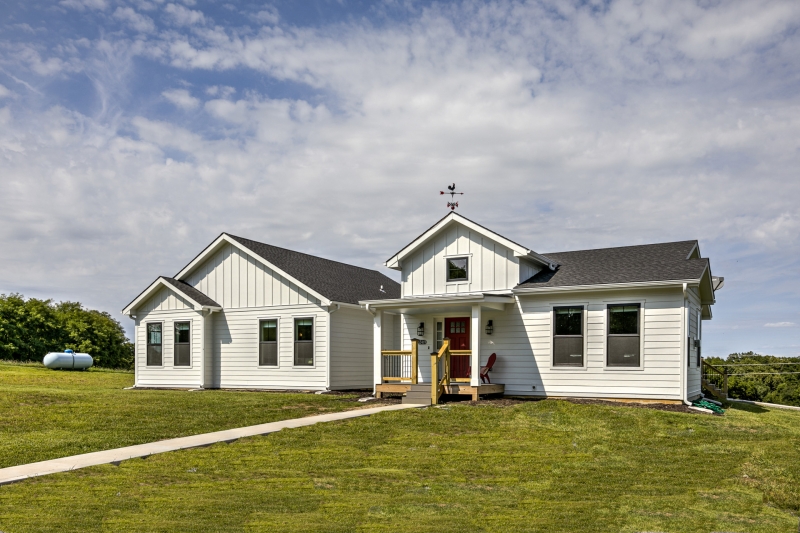 Project Description
A3G originally was hoping to fully renovate the existing home that consisted of an original two-story historic structure with and addition in the rear. The rear portion of the home had significant structural and finish damage throughout from a previous tornado that had never been repair.
A3G was determined to design a new home that incorporated the existing charm and elements of her home. The one-story farmhouse was construction using SIPs (structurally insulated panels) featuring a mirroring image of her existing home with an added breezeway and bedroom wing. The use of the SIPs panels gives a highly energy efficient building shell.
The home was designed to replicate the forms of the original farmhouse.  Upon entering the new home, the vaulted entry and living room replicated what used to be her living, main bedroom, and attic space of her old home. The kitchen was a special project in this home. The owner and her husband previously purchased a model kitchen with plans to install it in their home, but it has been in a storage unit for several years. We were able to update and reconstruct her kitchen using the existing cabinets they bought together and by designing an island that matched the design of the existing cabinets. A breezeway that consists of a ½ bath and mechanical room connects to the bedroom wing. The main bedroom is vaulted with the bathroom and closet.
Location: Liberty, Missouri
Built Date: 2020
Size: 2,000 sf
Categories: